What Do You Do When Something Doesn't Fit Through the Door?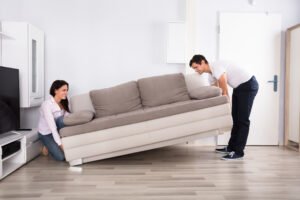 If you've ever moved anything before, you know that fear you get when you try to move a big piece of furniture through the door. It doesn't fit and you're left wondering: how the heck did we even get this in here in the first place? Now what? Well, here are some troubleshooting tips to try.
First things first, make sure you measure all doorways and large furniture. This will tell you in black and white whether the furniture is going to make it through.
Tip It On Its Side
If your square or rectangular couch doesn't fit through on its side, tip it on the diagonal. Sometimes this will provide just enough extra room to fit through a tough spot.
Remove Accessories
Often times, couches, beds, cabinets and armoires have accessories that you can easily take off before trying to move the larger item. You can screw the legs off of a couch, take doors off cabinets, remove tops or pillows, or unscrew knobs and handles.
Disassemble the Furniture
Beds and bed frames can be pulled apart, moved, and re-assembled in the new place. It's always best to pull apart as much as you can and carry each piece instead of the whole thing. If there are a lot of parts you have to remove, label them and where they go to avoid confusion when you set it back up. If you have a piano, you can take off the legs, rim, lid, dampers, pedals and the music desk (where the sheet music goes). Speaking of moving pianos, these are actually best left to a professional due to the delicate nature of the instrument and the risk of damage to your walls and floors.
Remove Cushions
Even a small couch can weigh 100 pounds, so while you may assume that the pillows and cushions don't weigh much, removing them can make a big difference. This will reduce the weight as well as the bulkiness of the couch so you can more easily fit it through the door and down tight hallways. If you have a sleeper sofa, keep in mind these can weigh 350 pounds at least, so remove the legs, cushions, throw pillows and anything else that will help you move the item with ease.
Take Off Doors
If you still can't squeeze a large item out the door, remove the door itself. This will give you another inch or two leeway. Take the door off its hinges, place it off to the side, get the item through, and re-install the door.
If All Else Fails…
Call a professional mover! Here at Pack It Up Movers, we are skilled at moving furniture, including sectionals and pianos, for all kinds of residential and commercial moves. Contact us for a free quote to get started on your next big move. For your convenience, we serve all of Turlock, Fresno, Chowchilla, Merced and surrounding areas.